The Lanvellec Academy of baroque music offers musicians the possibility to perfect their practice of ancient music, focusing on ornamentation and basso continuo.
The Academy of early music education matches one of the first missions of the association, fixed at its beginnings in 1986: "To implement education projects favouring early music", around the exceptional and authentic historical organ by the British organ builder Robert Dallam (1653), the only English organ of the Commonwealth period in France and one of the only survivors of 17th century organ building with its original pipework.
Since 2011, to complete the Autumn Festival and the Spring Festival, the association has offered a summer academy where high level international students meet to perfect their practice of baroque music. For one week, the students are taught by world renowned faculty, alternating private and group lessons, personal classes and chamber music practice.
8th Academy "Musical baroque ornamentation and Foundations"
July 7 – 13, 2019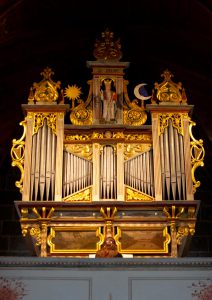 The course focuses on mastering the baroque musical language : basso continuo and ornamentation ; upgrading performance skills either in group workshops or individual classes on historical instruments ; extending knowledge of the repertoire of baroque music.
The course is aimed at professional musicians, either beginners or experienced, wanting to advance their careers and widening their knowledge of the repertoires using historic instruments, one of them being the outstanding organ of Lanvellec built by Robert Dallam in 1653.
The Academy boasts exceptional teachers, musicians of international standard and confirmed pedagogues, working in the greatest French conservatoires :
The course takes place in the heart of the village of Lanvellec in Brittany, offering a great working environment : church, manor house etc.