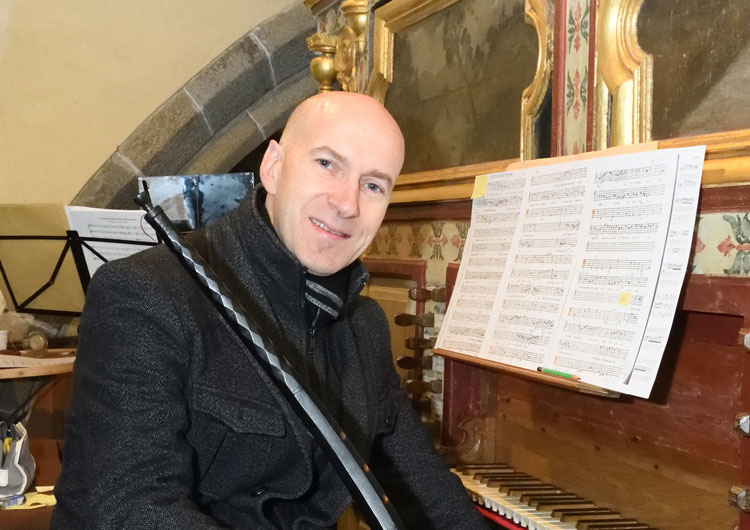 Fascinated by seventeenth-century Italian music, Jean Tubéry began his studies in Toulouse and Amsterdam as a recorder player; he later focused on studying the cornetto. After specializing with Bruce Dickey at the Schola Cantorum Basiliensis, he worked with several renowned early music groups (Clemencic Consort, Les Arts Florissants, La Petite Bande, et al.), before founding his own ensemble in 1990. Ever since, the ensemble La Fenice has been a leading force in the European early music scene; the ensemble will celebrate its 25th anniversary throughout 2015.
The ensemble La Fenice has recorded for the major European labels. It should be noted that the continuing series made with Ricercar, The Heritage of Monteverdi, has been singled out as one of the ensemble's finest achievements.
Jean Tubéry teaches cornetto and gives classes of interpretation at the Conservatoires of
both Paris and Lyon, as well as at the Royal Conservatoire of Brussels. He is also regularly invited to give masterclasses throughout the world: Luxemburg, New York, Cleveland, Basel, Oxford, Helsinki, etc.
As a director, he was awarded the prestigious distinction « Liliane Bettencourt prize » for his work with the Namur Chamber Choir (2002-2008).
In 2001, Jean Tubéry was appointed « Chevalier de l'ordre des Arts et des Lettres » by the French government and in 2007 he was voted « Personality of the year » by Le Soir, the Belgian National Newspaper. His recording of Charpentier's Te Deum was selected as the best version, by the Magazine Classica in 2010.
In 2013 Jean Tubéry was awarded the title of Chevalier dans l'Ordre des Palmes Académiques for his work as an artist and teacher in the Auxerre area (East of France)