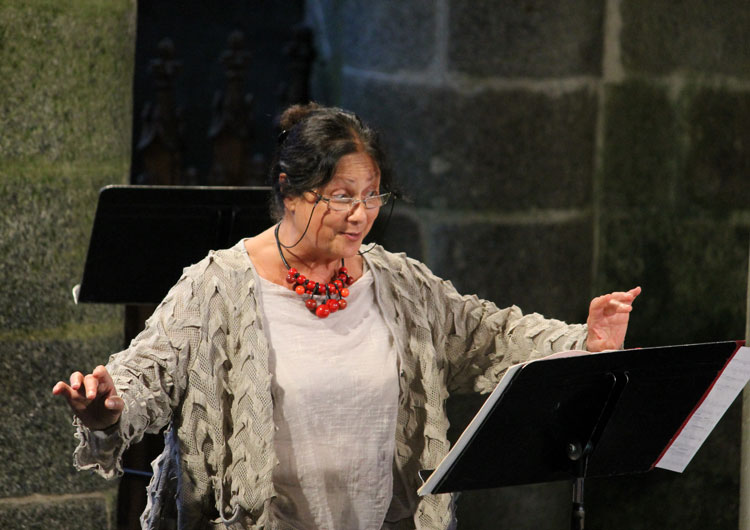 Beatrice Cramoix did her humanities at the Sorbonne University in Paris while being at the Paris National conservatory where she got her diplomas in 1973. Admitted right away at the opera studio professional course, she worked and got the roles of Pamina, First Dame and Papagena in Zauberflöte, as well as the Soprano parts in a production centered on Monteverdi's Love Madrigals which aroused her curiosity for the dramatic interpretation of the ancient works. Then started a long research endeavour about gesture and declamation in the sung theatre. The results of those researches took her all over Europe for conferences and concerts where she interpreted French and Italian cantatas.
Co-founder of the"Péniche Opéra" of Paris with Mireille Laroche in 1982, she interpreted numerous contemporary works with this organization. Her singing career has allowed her to encompass a vast repertoire from 17th to 21st Century, Monteverdi, Schutz, Rameau,Vivaldi, Clérambault, Montéclair… as well as Mozart, Cimarosa, Haydn, Purcell, and Ibert, Landowsky, Menotti, Prey, Decoust, Cage, Aperghis, Aboulker …
In 1990, she started teaching at the Genève Early Music centre and for the past 8 years has been a voice teacher at the St Brieuc Conservatoire of Music. As a stage director, she worked on productions of Rameau (Les Indes Galantes), Marco Da Gagliano (Daphné), several interludes in the style of the Commedia Del Arte (Sarro, Pergolesi Hasse) with Sigiswald Kujiken director of "la Petite Bande".
She has been a member of the Lanvellec Academy since 2013.