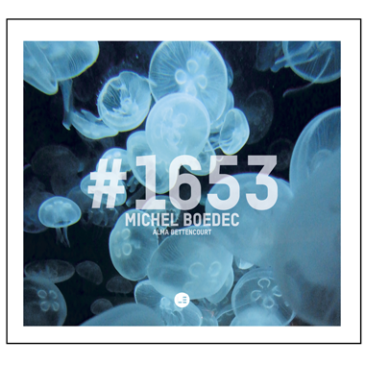 #1653
Michel Boédec & Alma Bettencourt
A contemporary creation for the Robert Dallam Organ
This first installment of the label Lanvellec Editions is a commission given to the organist and composer Michel Boédec, a new and original contemporary work for organ Robert Dallam de Lanvellec entitled # 1653.
# 1653 or "The Journey of Saint Brendan in Search of the Island of Paradise" serves as a guiding thread to bring to life the incredible sounds of the instrument.
From it emerge dragons, demons, angels, birds, the giant, fiery forges, the crystal church, the monastery of eternal youth, the island that smelled of apples …
# 1653 is performed in 4 hands: the album brings together Michel Boédec and Alma Bettencourt at the podium.
Composer> Michel Boédec
Interpreters> Michel Boédec, Alma Bettencourt
Recorded at Lanvellec, St. Brandan Church, October 2018.
The artistic and technical direction of the recording of this opus is entrusted to François Eckert (Sonomaître).
Michel Boédec, Composer and organist
Michel Boédec is a composer, organist and pianist. Titular organist of the Church of Saint Peter of Montmartre in Paris, he performs regularly as an improviser and has worked readily with actors (Anne Le Coutour, the Lire Autrement Company, Antoine Juliens…), dancers (the Patrick Le Doaré Company, Maribé Demaille…), visual artists (Andréa Colaianni, Paul Chollet, Jean-Michel Corre, Diego Lis, Erwann Le Bourdonnec…) and traditional musical artists (Andréa ar Gouilh, Nolwenn Korbel, Daniel Le Féon…). He designs and performs various shows mixing text and music: the "Legends of sea and death in Brittany" performed with Anne Le Coutour was recorded in 2015. For the most part, his compositions are custom-made for specific performers or locations. His most recent pieces have been performed and recorded by Pascale Rouet, Anne Froidebise, Anne Le Coutour, Alma Bettencourt, Olivier Struillou, Adam Bernadac, Guillaume Le Dréau, the Equinoxe and Agate quartets, as well as amateur ensembles (for the teaching repertoire).
Born in 2004, Alma Bettencourt began piano at age 5. Since 2014, she has been pursuing her studies in the piano class of Elena Rozanova at the Paris regional conservatory, and simultaneously, since 2016, in the organ class of Éric Lebrun at the Saint-Maur-des-Fossés regional conservatory.
Piano:
In 2013, she obtained the 1st prize in the Paris International Competition (Schola Cantorum) and in 2015, in the Île-de-France Piano Competition and the Concours Claude Kahn.
In 2017, she won 1st prize in the "Brin d'herbe" Orleans Contemporary Piano Contest, which gave her the opportunity to play on several occasions repertoire from the 20th and 21st centuries in Paris and in France's Centre region. Repertoire included Poulenc, Messiaen, Kurtag, Shostakovich, Reibel, Dupin and improvisations. She has performed in a trio in Séverine Chavrier's "Nous sommes repus mais pas repentis", based on Thomas Bernhard's "Wittgenstein's Nephew", in Paris (Odéon Theatre – Ateliers Berthier) and Arras (National Stage).
In 2018, Alma Bettencourt took part in "La Pochette Musicale", a series of chamber music concerts (La Nouvelle Athènes – Paris) in a program of Dvorak and Pepper.
Organ:
Since 2016, she has performed recitals and taken part in collective concerts in Saint-Maurdes-Fossés (regional conservatory auditorium, the churches of Notre-Dame du Rosaire and St. Nicolas), in Paris (St. Antoine des Quinze-Vingt, St. Louis-en-l'Île, St. Pierre de Montmartre, Temple de Pentemont, Danish Church of Paris) as well as in Fouesnant, Chennevières, Cunault… She has performed pieces by Michel Boédec, notably "Aleppian Circle" which is dedicated to her.
In 2018 she was the winner of the André Marchal Academy's "Organ of the Youth" Contest.
Discography:
L'Orgue Cavaillé-Coll / Mutin de St Pierre-de-Montmartre (collective disc – 2018)